Life Cycle Technologies for hybrid structures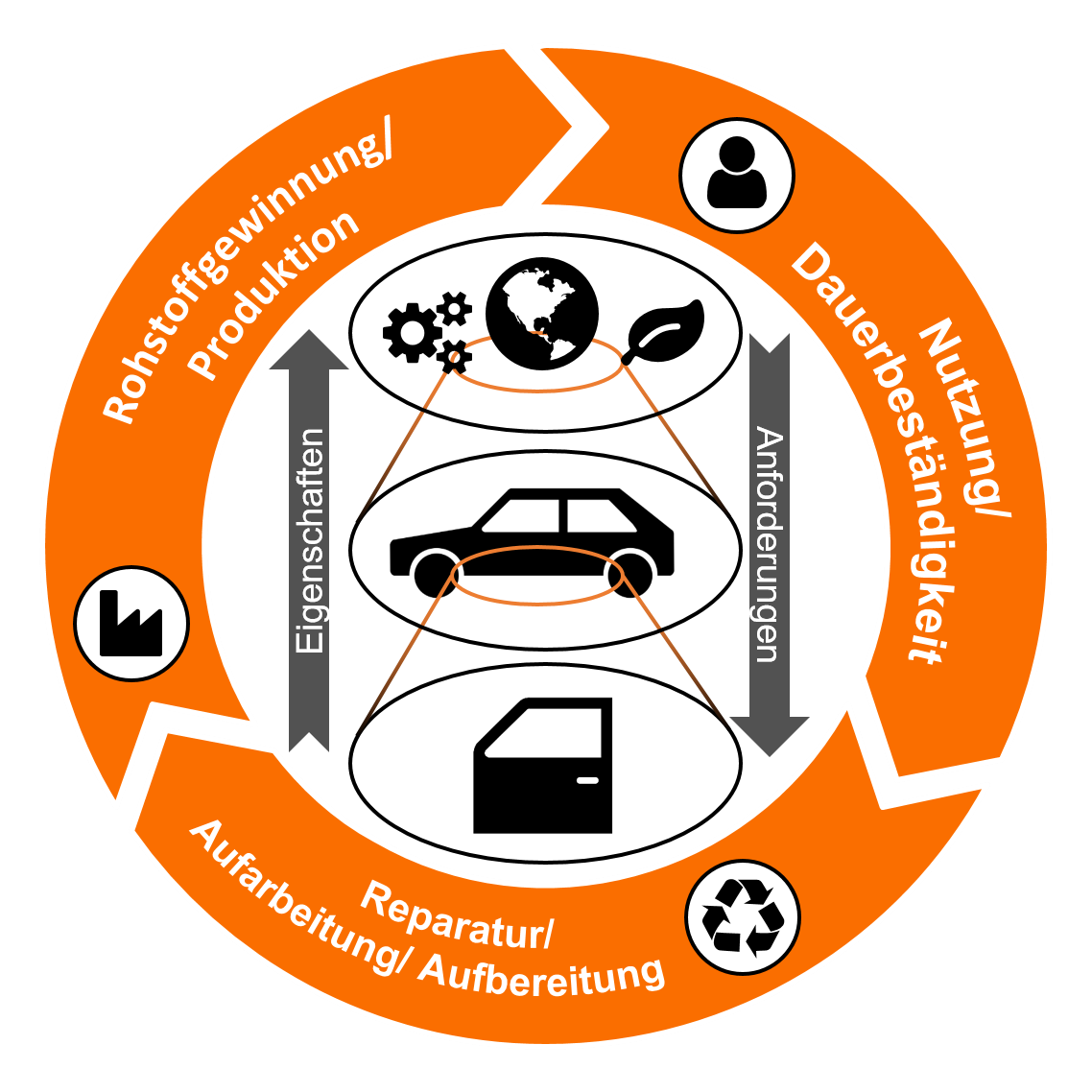 In the research campus project "Life Cycle Technologies for hybrid structures" (LCT) the optimization of the whole application potential of hybrid structures in vehicles is planned by examining model-based illustrations of the whole life cycle.
Technical challenges of the design, construction and fabrication of components in a multi-material construction method have already been identified for a large number of material combinations and – to a large extent – been overcome. The question of whether the function of the component is fulfilled over the entire lifetime has been addressed less frequently. Existing approaches are often limited to theoretical considerations (e.g. simulation of load spectra) or isolated problems (e.g. recovery of carbon fiber). An integrated consideration of the entire life cycle of a component in which concrete challenges in production during use and at the end of life are addressed, has hardly taken place so far.
The research campus project "LCT" therefore aims to design multi-material components in a life cycle-oriented manner. While previous projects in this field have focused primarily on the development and manufacturing of the components, this project will primarily examine the use and end-of-life options in greater detail with the aid of targeted condition monitoring. An important component is a holistic analysis and evaluation taking into account technical, economic and ecological criteria.
As a member of the Fraunhofer Project Center Wolfsburg and project partner of the research campus project "LCT", the Fraunhofer WKI is working on 3D-formed components made of micro-veneers (strands), which can then be used to manufacture hybrid components with improved weight and ecological balance using formed sheets. This builds on experience with large-area veneers, but pressing and forming techniques must be further developed for micro-veneers. It has already been shown that wood-based 3D components can also be manufactured from more easily available strands, e.g. beech. Their properties are to be optimized in the further course of the project.
For more information click here (in German)
Duration: 2020 – 2024
Project partners: Fraunhofer WKI, Technische Universität Braunschweig, Institute of Machine Tools and Production Technology (IWF), Institute of Joining and Welding (ifs), ifu Hamburg, INVENT GmbH, ZwickRoell GmbH & Co. KG, thyssenkrupp AG, ProCon X‑Ray GmbH, VOLKSWAGEN AG